VISUAL ART CLASSES
FOR STUDENTS K-12

MUSIC CLASSES
FOR STUDENTS K-12

THE LEADER
IN QUALITY ARTS EDUCATION

DANCE CLASSES
FOR STUDENTS K-12

PROVIDES ACCESS IN THE ARTS
TO ENRICH CHILDREN'S LIVES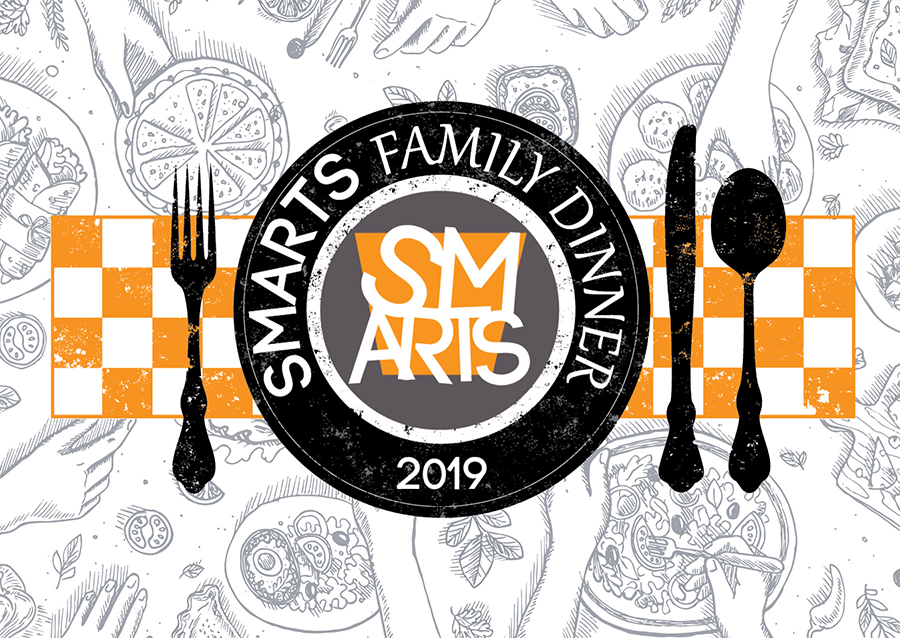 Save the Date! 
Please join us as we hold the first SMARTS Family Dinner at 5:00 pm on Wednesday, April 3, 2019 at Stambaugh Auditorium. It will be an evening of arts demonstrations, creativity, and fun! Help us to celebrate SMARTS history, recent growth, and our students, families, teachers and staff.
Sharing a meal at the same table is a family tradition that transcends culture, ethnicity, time, status, religion, and geographic location. The dinner table represents a time when families devote themselves to sharing experiences, creating memories, and prioritizing being together. It is this concept of togetherness that the SMARTS Family Dinner invites you to be a part of as we share our amazing story of providing quality arts education in the Mahoning Valley since 1997.
Support SMARTS by sponsoring a table with one of our sponsorship levels and/or making a donation towards the event! Your sponsorship will give you seats at the dinner table and will allow SMARTS staff, teachers, students and family members an opportunity to have dinner and connect with you.
The deadline to sponsor SMARTS Family Dinner is February 22, 2019. Please call Becky Keck, at 330-574-2787 or email at bkeck@smartsartschool.org for more information. You can also access the Sponsorship Package by clicking here. On behalf of the thousands of students SMARTS has served in the past, and all of our current students here at SMARTS in the Ohio One building and out in the community, we thank you for your commitment to SMARTS and quality arts education.
Please support the first SMARTS Family Dinner through one of our generous sponsorship packages. We promise that it will be an evening you won't forget!
Learn More About Our Classes
The fabric of the SMARTS program is woven by individuals from various walks of life; yet, all share one common thread - an inherent appreciation for the arts. The result? A local tapestry bursting with talent and a love of learning, ranging from those with an affinity for theater to people who voice expression through writing and visual arts.
Donate to SMARTS Today - Be A Part of It!
The future success of SMARTS depends on the support and generosity of people like you!
Donations help fund operational costs at our location in the Ohio One Building and provide future programming in visual arts, music, dance, theater, and creative writing.
Too often, children lose critical access to quality arts education as budget cuts eliminate art and music programs. Help preserve the spirit and legacy that learning in the arts provides, and consider making a donation to help SMARTS community-based art school continue its long-standing, positive impact on our community.
Mail donations to:
SMARTS
Ohio One
25 East Boardman St., First Floor
Youngstown, Ohio 44503
In accordance with Internal Revenue guidelines, SMARTS, Students Motivated by the Arts is a 501(C)(3) and can receive cash donations. SMARTS has provided no goods or services to you in return for this gift; therefore, the full amount of the gift is a tax deductible contribution. Checks can be made to SMARTS and should include contact information including snail mail and email address.
For donations $100 and above, you can increase your gift to SMARTS by an additional 10% grant through the Youngstown Foundation Support Fund. SMARTS is an approved charity and will receive your donation from the Youngstown Foundation. The Youngstown Foundation does not subtract any credit card processing fees. 100% of your donation will go to SMARTS.
You can make your donation here