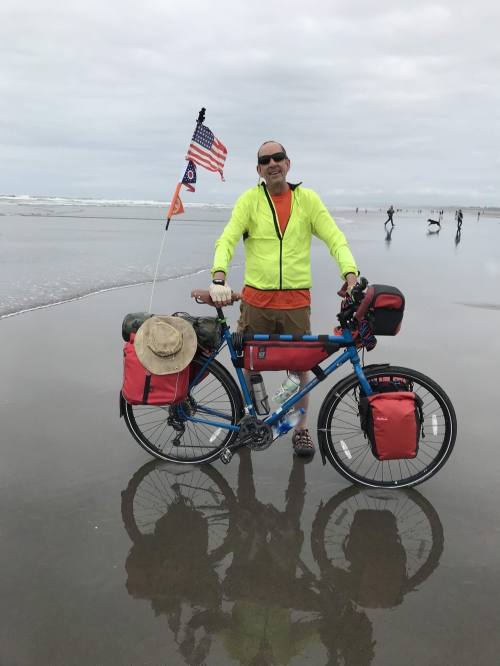 Going the Distance for SMARTS
Be a part of our Going the Distance fundraising opportunity, as Youngstown's own Doug Smith, former owner of The Drum Smith in Struthers, bikes across the country to raise money for SMARTS!
Our Goal: $35,000
Our Event: June 7 – August 11, 2018
Our Impact: 250 hours of FREE arts instruction when we hit our goal!
On Thursday, June 7, 2018, Doug will begin his trek from Astoria, OR. He will pedal 60 miles per day through 13 states, stopping in Youngstown on Friday August 3, 2018 for a pit stop - Doug's 61st Birthday Celebration, and finish in Rehoboth Beach, DE on Saturday, August 11, 2018.
Donate Per Mile!
$5.00 per mile – that's all it takes! Whether you'd like to donate for one mile or 100, every contribution helps!
Our goal? To have Going the Distance generate over 250 hours of FREE arts instruction! Be a part of it:
Each $5.00 increment = a mile of the journey!
Our goal of $35,000 will support an average month of SMARTS FREE public programming, located at our Ohio One location
Monthly average costs include 25 different classes, with 95 separate sessions, and 11,875 individual interactions serving over 125 PK-12 students.
Going the Distance for SMARTS is a fundraiser to benefit SMARTS, your donation is non-refundable and will be used to support our free public programming. While the goal is for Doug to complete the journey, as with any physical activity it is possible that he will be unable to complete the trip due to unforeseen circumstances. We wish him the best of luck on his journey and thank you for your donation to support SMARTS.