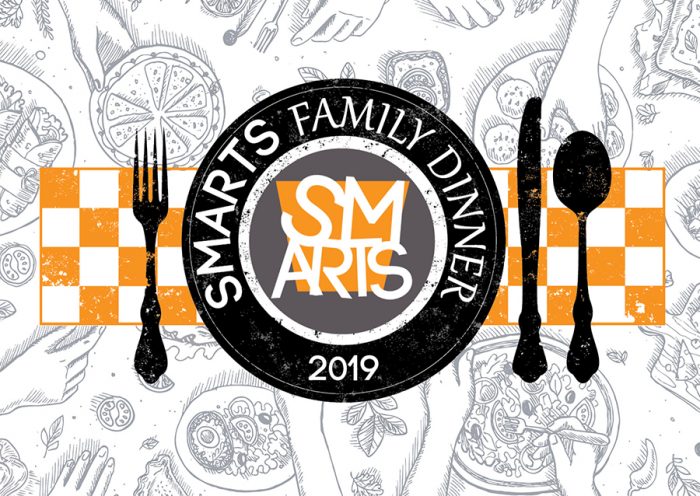 Please join us as we hold the first SMARTS Family Dinner at 5:00 pm on Wednesday, April 3, 2019 at Stambaugh Auditorium. It will be an evening of arts demonstrations, creativity, and fun! Help us to celebrate SMARTS history, recent growth, and our students, families, teachers and staff.
Sharing a meal at the same table is a family tradition that transcends culture, ethnicity, time, status, religion, and geographic location. The dinner table represents a time when families devote themselves to sharing experiences, creating memories, and prioritizing being together. It is this concept of togetherness that the SMARTS Family Dinner invites you to be a part of as we share our amazing story of providing quality arts education in the Mahoning Valley since 1997.
Support SMARTS by sponsoring a table with one of our sponsorship levels and/or making a donation towards the event! Your sponsorship will give you seats at the dinner table and will allow SMARTS staff, teachers, students and family members an opportunity to have dinner and connect with you.
The deadline to sponsor SMARTS Family Dinner is February 22, 2019. Please call Becky Keck, at 330-574-2787 or email at bkeck@smartsartschool.org for more information. You can also access the Sponsorship Package by clicking here. On behalf of the thousands of students SMARTS has served in the past, and all of our current students here at SMARTS in the Ohio One building and out in the community, we thank you for your commitment to SMARTS and quality arts education.
Please support the first SMARTS Family Dinner through one of our generous sponsorship packages. We promise that it will be an evening you won't forget!